I doubt there's a literate person on the globe who would disagree that politics has taken a perplexing turn in recent times. It's as if there's a pollutant in the water!
Oh wait… there is!
Readers in NSW will still be smarting from the recent wrestle with government over attempts from extremists in the environmental lobby to lock fishos out of a great deal of Sydney's iconic and safe land-based fishing areas, along with a number of offshore grounds up and down the coast. The assertion was that biodiversity needs protection.
The obvious unspoken commentary was that recreational fishing is the enemy of biodiversity. Such perception-modifying stunts need to be firmly resisted and exposed for what they are: manipulative smoke screens with hidden agendas. Let me explain…
This subversive agenda is driven by mega-funded, extreme environmental groups who want all extractive interaction with fish to cease. Their long game is to sway public opinion against all fishing — recreational and commercial. We need to be aware of our own public messaging, to ensure that a sound, balanced and true picture of recreational fishing is received… more on this later.
In the recent NSW example, the unspoken assertion that taking fishers away from land-based fishing hot spots would improve biodiversity was total nonsense, but it did allow the government to
look
like it was doing something about a very big issue — an issue that should be worrying each and every one of us.
Loss of biodiversity, both on land and in the water, is a harbinger of disaster for the planet. As the self-appointed custodians of that planet, we should be working actively to safeguard against species loss. Right now, our oceans are in dire need.
One of the REAL issues impacting biodiversity and biomass is pollution: especially urban and rural run-off and storm water outflows. THIS is what governments (and all of us) need to be working on! If the environmental lobby had won its day, I suspect the powers that be would have rolled away from this major issue, with the public still believing that they'd "done something".
Thankfully, the message seems to have penetrated through to the thinkers in the halls of power. Within the last month, a call has gone out for members of the public with an interest in marine litter (ahem… each and every one of us, right?) to register and participate in discussions around this important topic that will help inform policy and action. Naturally, I was quick to register! This is where we SHOULD be focusing. Let's do something REAL!
I was dismayed to receive an email stating that there was not enough interest in my region. Therefore, the event that I was prepared to drive two hours to was cancelled. Gobsmacked! I am pleased to report that I'm participating in a Skype hook-up with the facilitators instead.
These meetings (and any like them) provide us with a very public opportunity to demonstrate our conservation cred'. As recreational fishers, the very enjoyment of our pastime is intrinsically linked to the health of the waterways: habitat, eco-system, water quality, biomass… the lot! It doesn't matter whether you are an angler who is motivated by self-reliance for food, trophy hunting, or the privilege of being in the great outdoors… every single hope of success that you have is dependant on this issue.
And that brings me back to that point about ensuring that the message concerning recreational fishing and fishers is TRUE and BALANCED. If we stand up, embrace the importance of the health of the environment and become genuine, active custodians of our waterways, we can demonstrate the whole story of our culture (I hope that you have already come to this realization, but if not, please join me).
The active word here is "demonstrate". We really need to work on managing the messages that go out, to ensure that every angler is putting forward a proud and defensible face. Responsible actions, considerate behaviour, recognition that we are but one of the legitimate user groups of Australia's aquatic resource and our active respect that science needs to inform management, in order to ensure the longevity of our fishing resource.
We need to tell the whole story of recreational fishing, not just the kill-and-grill, blood sport message that is so commonly focused on in the ego-driven online world. Every image we post, attitude we express and "like" we grant builds upon the generic picture that the Australian community has of the recreational fisher.
My dream is to see that image forged around the wonders of the wild world, portrayed in love, respect and awe. I'd like the self-reliance of a capable and thoughtful food gatherer to be revered rather than resented because the general populous can see that we are subsistence fishers, not selfish harvesters — Even better if the non-fishing community could witness our actions of environmental responsibility, custodianship and science-based management. Such a public perception would be far more difficult to manipulate by those radical factions who seek to remove our permission to fish.
Here's a little bit of irony for you… recent studies into the environmental costs of food show that
all
food production has environmental costs, with the lowest impact forms of animal protein coming from
species that feed naturally in the ocean and that can be harvested with low fuel requirements
. In fact, when compared to other studies of vegetarian and vegan diets, a selective diet of aquaculture and wild capture fisheries can have a lower environmental impact than either of the plant-based diets. For those interested,
the summary of this study can be found here
.
It's clearly very important that we do not let the extreme preservationists befuddle the opinions of our fellow Australians, as they will never paint the entire canvas.
There are many small ways that we can each contribute to an improved public image for recreational fishing. Some ideas are: 
1. Tyre Tracks & Foot Prints
Always leave only your tyre tracks and footprints when you leave your fishing location, even if that means taking other folk's rubbish with you.
2. Be An Active Custodian
Join your nearest OzFish Unlimited chapter and participate in habitat restoration projects. If there isn't a chapter near you, consider initiating one yourself.
3. Help Safeguard The Fish Stocks
Participate in citizen science. Helping scientists collect data that informs stock levels, habitat health and biodiversity ensures that fisheries management decisions (such as size and bag limits) are based on reality rather than perception and helps us all respond to sustainability issues in a timely and responsible manner.
4. Take Only What You Can Eat Fresh
As often as possible, take only what you will eat fresh. You'll fish more often and the more time fish are in the water, the more chance they have of spawning… something they can't do in your freezer.
5. Teach A Man (or Woman) To Fish
Teach your neighbours to fish. It's not our role to feed the community. That's the role of commercial fishers.
One of the benefits of participating in citizen science projects is that it often forces us to pay more attention to detail, which in turn improves our understanding. Monitoring the recreational "take" is an important aspect of this. Having just returned from the inaugural meeting of the National Fishing Advisory Council, on which I'm proud to sit, I can state unequivocally that the lack of catch data for our sector is the major thorn in the side of effective resource sharing between the commercial sector and ourselves.
In this regard I note that the good people of Fish Ranger (the preferred weather resource of Fishotopia, for very good reason) have recently upgraded their app to include a fishing log book feature which allows you to record notes against your fishing trips and review what the weather was on those days… No more guessing what tides or barometer are best suited in your area. I think such resources will also allow us to track catch-versus-effort trends over time. This sort of recorded information would be invaluable to fisheries management whenever data is needed to defend our right to fish and accurately quantify our impact on the resource. I'm sure other handy fishing diaries with links to purpose-built databases will one day be common, but in the meantime, let's support Fish Ranger and start creating our own knowledge base, for both selfish and benevolent purposes.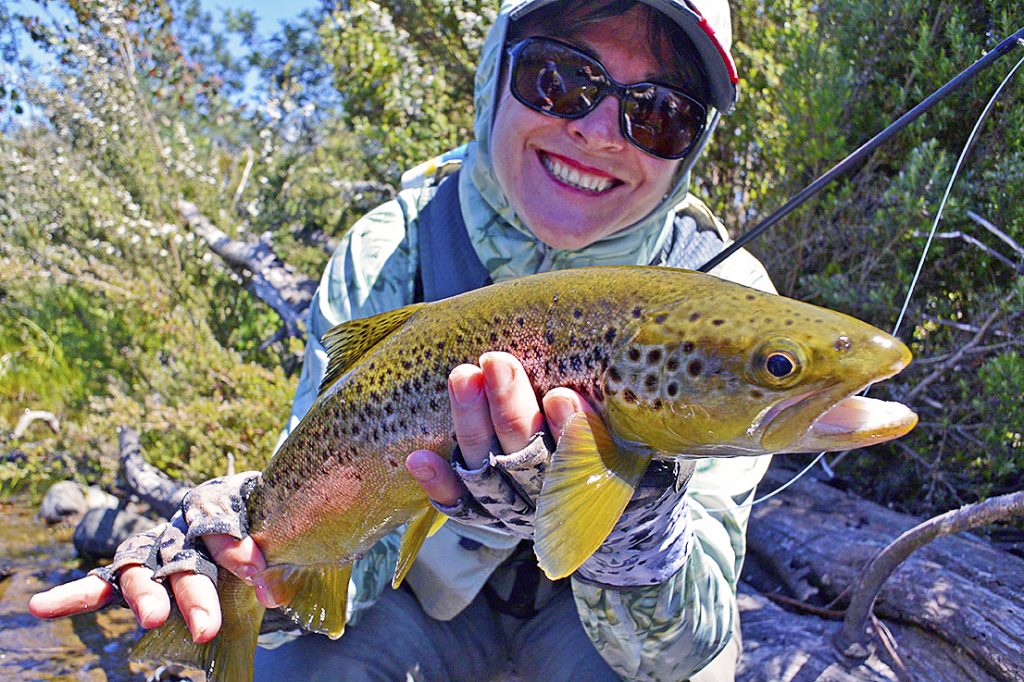 Jo Starling
Avid Aussie Angler
As an avid rec. angler, I'm proud to represent recreational fishers on various advisory councils, including the Recreational Fishing NSW Advisory Council (RFNSW) and the National Fishing Advisory Council (NFAC).