The 2019 Barra'Prentice year has come to a close, but it will never be forgotten.
Never before has there been a Barra'Prentice like Nadia "Nadz" Taylor! Nadz has overcome more obstacles than any 'Prentice before her and shared her entire journey with anyone who was interested. Her passion and enthusiasm enthralled our followers and undoubtedly inspired many.
During the customary "graduation" trip to the Northern Territory, which takes in the Secret Womens Business Barra Challenge, Nadz decided to keep a Facebook journal, so she could look back on her experience in years to come. Well, it developed a life of its own! With Nadia's permission, we've transferred it here, so that everyone can see what it's like to come on this journey. We hope you enjoy the experience as much as we did.
Congratulations, Nadz! We look forward to following your fishing journey into the future… and a very BIG THANK YOU to the outstanding and generous businesses who made the 2019 program possible…
I'm going to try to do this every day so that you can all follow my journey, but also for me to be able to look back and see how amazing a time was had leading up to the
SWB Barra Challenge
After a somewhat hectic time leaving Sydney (as is always the case) Team The Barra'Prentice boarded the plane on the way to Top End and our FANTASTIC shirts printed by our wonderful sponsors Curby's NT really drew a lot of positive attention!
One short cab ride into the heart of Darwin later, (where a KFC request by our driver's grandson on speaker had us in stitches) we checked into our gorgeous apartment for the night and get ready to adventure to the Doctors Gully fish feeding!!
Wow!! What a wonderfully special and amazing experience it truly was!! These fish aren't being contained for you feed — they are free to come and go as they please and they all come into Darwin's harbour in this special place to be fed by the general public for a small fee of course 😉
I saw so many fish I hadn't encountered, and also a few I had — but to hand feed them was so particularly special and out of this world that I won't forget it anytime soon!
Jo Starling , Georgina Saunders and Vicki Winter-Lear had all told me how great this place was , but I still wasn't prepared for how cool it was!! Feeding and/or seeing the plentiful mullet (including an albino one!), milkfish, mangrove jack , gorgeous huge batfish, bream , grouper and finally an elusive barramundi hiding in the shadows was just magic ☺️
After we got back to our apartment for a quick change, we ventured out to have dinner at the local Chinese WHICH WAS AMAZINGLY spectacular!! Highlight was definitely the Peking duck (food wise). Even Georgi (who isn't a duck fan) LOVED It!!
In saying that … the company was a definite highlight too as we got to meet another couple of keen fishos; Jo's brother and his wife!
So after a huge day With so many highlights, it's time for this 'Prentice to go to bed in readiness for day 2! We are tackle shopping tomorrow so that's going to be dangerous for the bank account 😂😂😂
Nadz signing off …
What an absolute adventure today was!!!
After checking out of our apartment in Darwin, we picked up our car and headed to my ideal version of the best retail therapy on the planet… THE TACKLE SHOP!!
🤣
🤣
🤣
And it wasn't just any other tackle shop… no, that just won't do on this adventure!! It was the absolutely brilliant (and pretty well-regarded and super well-known) Fishing & Outdoor World in Darwin!
The team there really looked after us all and helped us choose some pretty cool stuff that may give us a bit of an advantage when we fish the SWB challenge at the end of this trip!
We even got given these fab bags to take our swag away in — how cool is that?!
After giving the bank account bit of a paddling (and worth every cent of course), we then needed to do some ordinary shopping for some other necessities we will need for the next few days!
Soon enough, we headed to the amazing Litchfield Tropical Retreat.
Georgina and I are first time visitors , and have been absolutely blown away by how beautiful this place is, and Jo knows this too — that's why it's one of the highlights of our trip in terms of accommodation!
Even though this stay is sponsored by the wonderful Litchfield Tropical Retreat, I know immediately that whenever I'm back to the NT, I'll be absolutely 100% staying here happily as a paying guest! It's magical!
Tonight's delicious steak dinner was also pretty special and Jo's dad joined us for many laughs, and also provided us with so much home grown tropical fruit for desert!! Best bananas and passionfruit I have EVER had! Hands down!! And those 'green' oranges 🤤
But of course I digress… this trip isn't just about delicious food — let us get back to the fishing 😂
After dinner, we decide to unbox all of our goodies and sort our tackle boxes out!! I was like a kid at Christmas and it was also great to see how Jo and Georgi sort their tackle boxes. As always, they are always so kind to suggest the best way for me to organise mine.
Then I had a lesson I've been looking forward to for a while; replacing and changing out the split rings and treble hooks on some hard bodied lures that were in dire need of a change (due to rust) or upgrade.
After an initial struggle (and a bit of a hilarious moment when I realised I had rigged 2 treble hooks on one split ring instead of releasing the old one at the same time) , my mentors really encouraged me and, as always, made me more determined to get it right!
I know I'm going to need more practice and consolidate this new skill more tomorrow, but I also know that's how you get better at things ☺️
I've always taken this kind of stuff for granted, or just replaced a lure instead of changing the bits that needed replacing because of my lack of knowledge or thinking that I wasn't capable.
One of the things that The Barra'Prentice has taught me is to never doubt myself and cap my potential abilities. I will never be doing that ever again!
Well this 'Prentice is ready for some shut eye to prepare for what is going to be an epic and important day tomorrow — Boat Prep and so much more!!
Nadz signing off …
Wow ! I was warned that today would be epic, and it sure did deliver in both information learned by this Barra'Prentice as well as having fun beyond measure!
This morning, I may have had the BEST most delicious breakfast I've ever had with Vegemite (or Promite for those of you with inferior palates ). Jo whipped up her special poached eggs with alfalfa sprouts served on buttered Vegemite toast and this 'Prentice was truly in flavour country 😋. Please do yourself a favour and try this combo!!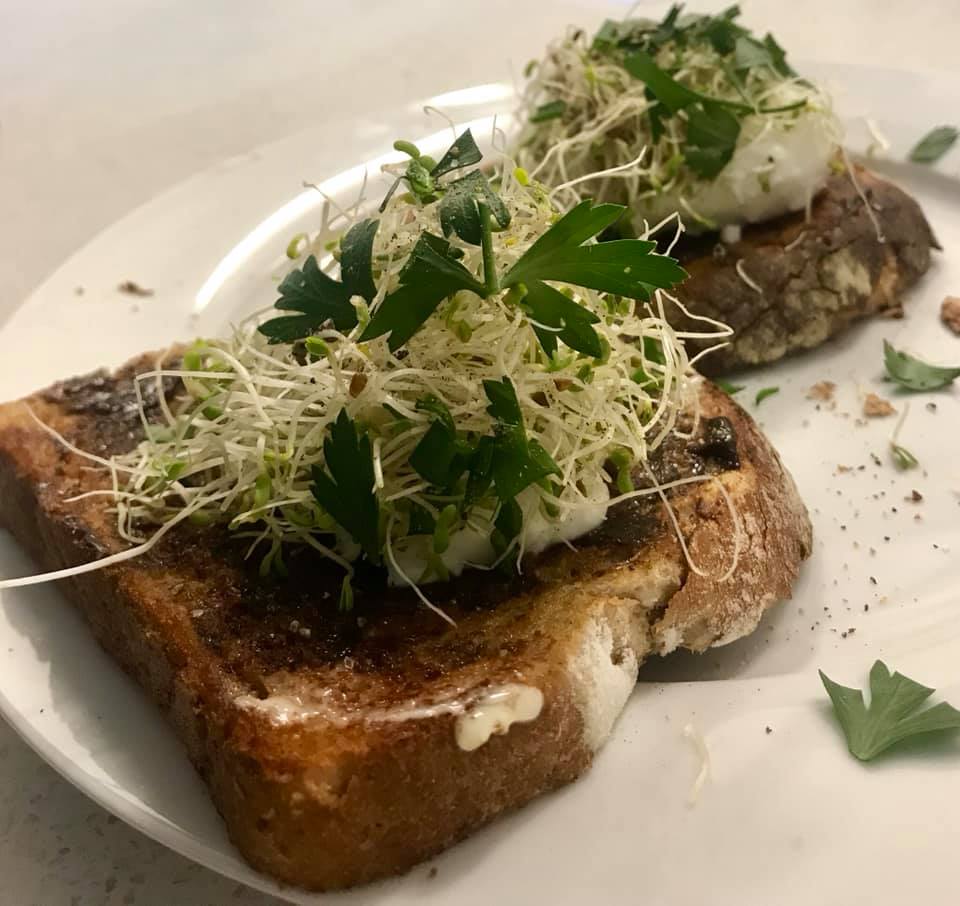 After such a special brekkie, I was all geared up to… well, continue work on my fishing gear!
I was able to completely spool my back up reels, and correctly tie all the knots required to do the job! This kind of work was always left to hubby or the tackle shop to do, and it's with an absolute sense of pride that I now feel confident to do all the prep from start to finish!!
With Reels and rods taken care of, it was now time to give the boat we will be using at the SWB Barra Challenge our full attention, as we want to ensure it's in tip top shape!
Firstly I was asked to reverse our lovely hire car (which was donated so kindly by one of our most brilliant sponsors, Professional Plant Solutions), and attach the boat trailer to the tow ball. Then I had to remember all the steps to correctly make sure the boat trailer was completely secured to our vehicle and carry out all the steps I was so dutifully taught some time ago. Thankfully it mostly came back to me !! ☺️
Then Jo Starling, Georgina Saunders and I jumped onto the boat and I was taken around and shown all our safety gear (in case of emergency), how the boat was configured, what the plans were for stowing things like tackle boxes and eskys on board, etc.
With that taken care of, we attached our sounder and we were ready to test our engine!!
I was told how a boat engine works and needs to have water flowing through it at all times to run, and that it shouldn't be run when it's dry or out of the water (makes sense of course, but has never been explained to me before).
So today I learnt all about ears or muffs, how to make sure water is flowing, and how to clear a blockage which we actually had to encounter! Goodbye wasps nest and hello running motor!!
We also had to troubleshoot a couple of other minor (yet extremely important) issues which sent us back to the city to pick up items that would resolve these problems!!
I absolutely loved learning more about boat motors today! It was only the start of a very long learning curve for me, and I am extremely appreciative to my mentors for showing me the ropes and how important it is to check these things, each and every time you go out on the water!
We headed into town for parts, and a quick stop to Howard's Springs on our return in hope of seeing the Barra there that were once able to be hand fed by the general public. Unfortunately, a species of grunter was super prolific today, but no Barra were spotted… however a couple of lounging lizards made our day and we had to take a couple of pics ☺️
After arriving back at Litchfield Tropical Retreat, Jo then asked Georgi and I to get our swimming gear on as there was a special place she wanted to take us to for a little picnic before dinner 😃
We then drove to the nearby Litchfield National Park to continue a tradition that previous Barra'Prentice alumni have enjoyed!!
Buley Rockhole is an amazing, ancient place. There are a long series of cascading plunge pools that are fed by a freshwater spring!!
Jo had packed a little picnic and some drinks for us to enjoy and that we did… over a spectacular sunset swim in a place that made me feel lucky to experience its special beauty… a place that I truly will never forget!
I also doubt Jo and Georgi will never forget the time I was attempting to get a cheesey cracker whilst staying in the rock hole to swim, losing my footing in the shallows which resulted in me falling into much deeper water and submerging myself and my beverage) even at full arm extension, hat, sunnies and a mouth full of food 😂😂😂😂
After drying off and returning to our car, we then headed back to start a delicious dinner, cooked as a team and enjoyed immensely by all.
So at the end of the day, I know I may have missed something, (including perhaps another tackle shop visit 🤣🤣🤣 And also, a certain something relating to a certain mentor getting stuck in the bathroom asking for my help … and being rescued thanks to my EDCA bag 😂😂😂 THANK YOU PRY BAR AND MULTI-TOOL 🤣🤣🤣) but this 'Prentice needs some zzzzz's so that she can be at her best tomorrow!! We are moving to a new place, I'm surely learning new things and we are prepping for what is going to be an epic charter with another super generous sponsor!!
So for now …
Nadz signing off …
All good things come to an end, and it was time to say "see you next time
Litchfield Tropical Retreat
and move onto our next stop on this trip and closer to where we will be out on a charter tomorrow!
But first, we had to pack the boat with all the things necessary! Our esky, rods and reels (which were all ready to go), tackle boxes, etc. were secured, loaded and I was shown some more pretty cool rope knots that I would use to secure gear for a trip!
After once again attaching boat to car, it was time to hit the frog and toad to go to a nearby waterway and test some of those boat skills out, as well as wetting a line and working as a team on a boat!
We arrived at a place called Manton Dam, and oh my word it was so pretty!
My job on boat launching as The Barra'Prentice is to reverse the trailer safely into the water and even though I haven't used my newly trained skills in a couple of months… I slowly but surely backed the trailer down the ramp (with Georgina Saunders being my guidance outside the boat) and we launched Jo Starling (on our boat) successfully and without a hitch!
After parking the car and trailer, we got on the boat and were off to explore and play with some tackle and lures!!
I got to fish through lily pads, which was sometimes a little challenging, but oh so much fun!! Controlling my lure so it hopped over lily pads and dropping into the water in the hope of a fish gobbling it up was absolutely brilliant and I just loved that interactive style of fishing 😍
I fished with some tried and tested soft plastics that are highly regarded as the best, as well as some new acquisitions on the market… however no fish seemed to want to have a go today, no matter what I tried! But hey — it's called fishing not catching for a reason! 😉
The absolute highlight of the day was hearing my mentor Georgi say that she had a FISH ON!! We worked as a team while Georgi fought that fish and lo and behold… A SARATOGA APPEARED !!! ☺️
Jo was on the net and told me to wet a towel and brag mat down (to make it cool for the fish) and place it down flat and rehearsed what we would do in a comp. She also showed me how to correctly hold a Saratoga for when I needed to hold my own up (positive thinking, as always) I cannot tell you how special it was so see this gorgeous fish (that I've only seen in magazines and on the TV) right in front of me. Pictures really don't do them justice and I just was so happy my mentor could show me how it was done ☺️
Another highlight today was being shown how to fish soft vibe lures properly by Jo! I was previously fishing them way too fast, and can only imagine how much my fishing will improve with them when I'm back home !!
One thing that was amazing though was the first opportunity I had to fish my new baitcaater outfit supplied by Manning River Marine!! The top of the line gear they supplied me is absolutely spectacular!! They not only look amazing, they fish soooooo well and I enjoyed today even more, thanks to their generosity! It really helps to know you have reliable gear that isn't going to let you down at the most important time! They really know their stuff 👍🏻
I didn't have the chance to use the spin outfit today (as I wanted to practice as much as I could on a system that is relatively new to me as much as possible before the SWB comp), but I am sure I will have the opportunity to do so very soon!!
After many hours of fishing, and seeing many dragonflies mating 😊 , it was time to call it a day. We weren't out today to specifically catch fish — it was more about how we worked together as a team, ensuring the boat ran smoothly, and testing out some lures on the water.
My job was now boat retrieval and I got off the boat to get to the car and reverse it and the trailer down the boat ramp, so that Jo and Georgie could get it on safely and secured it for travel.
The boat ramp was much busier than normal, with it being Father's Day as well as a weekend, but that didn't phase me! We all worked as a team to get the job done and it's really making me so happy that we work so well together — even if things aren't running smoothly!
When we drove up to park away from the ramp we bumped into a team who was also competing in SWB!! The girl we spoke to was so friendly and it was great to meet her and have a chat.
It was especially amazing to hear her say that she was too nervous to reverse down the ramp and pick up the boat with so many people here, and she couldn't do it… and I achieved that thanks to the help of my 2 amazing mentors ❤️
The next part of our adventure was to drive to our next place of rest (for the next 2 days anyway), so we are nearer to an incredible and well-regarded charter operator, who we are so lucky to have as a sponsor!
I'll save who it is as a surprise till tomorrows entry, but to say that this 'Prentice is excited is a MAJOR understatement!!!!
Will it be the day I catch my first barra on this trip? Or a Saratoga? OR ANYTHING ELSE? ☺️ I wonder what Jo and Georgi will catch, and how much crazy fun we are going to have on the charter!
All this will be revealed soon enough, so I'd better get to bed quick smart!
Nadz signing off …
OH . MY. GOSH!! What a day!!
Today, we had an extremely special treat organised 😃The brilliant Glenn Watt from Barefoot Fishing Safaris took us out on Bynoe Harbour for a charter, in the hope of getting us some practice before the SWB comp !
I am constantly pinching myself on this trip because I'm truly blown away with the genuine generosity all of our sponsors have shown to this Barra'Prentice!
Glenn (aka Watty) picked us up, bright and early, from our accommodation and I really was so excited! I've been a Barefoot Fishing Safari fan for a while now… and I can now confirm how absolutely fantastic he is!! But I'm getting ahead of myself… let's start from when we were actually on the water having a fish!!
Watty was so brilliant and really made us all feel welcome. He told us of his plans for today and even suggested what lures to fish, based on his experience in these waters.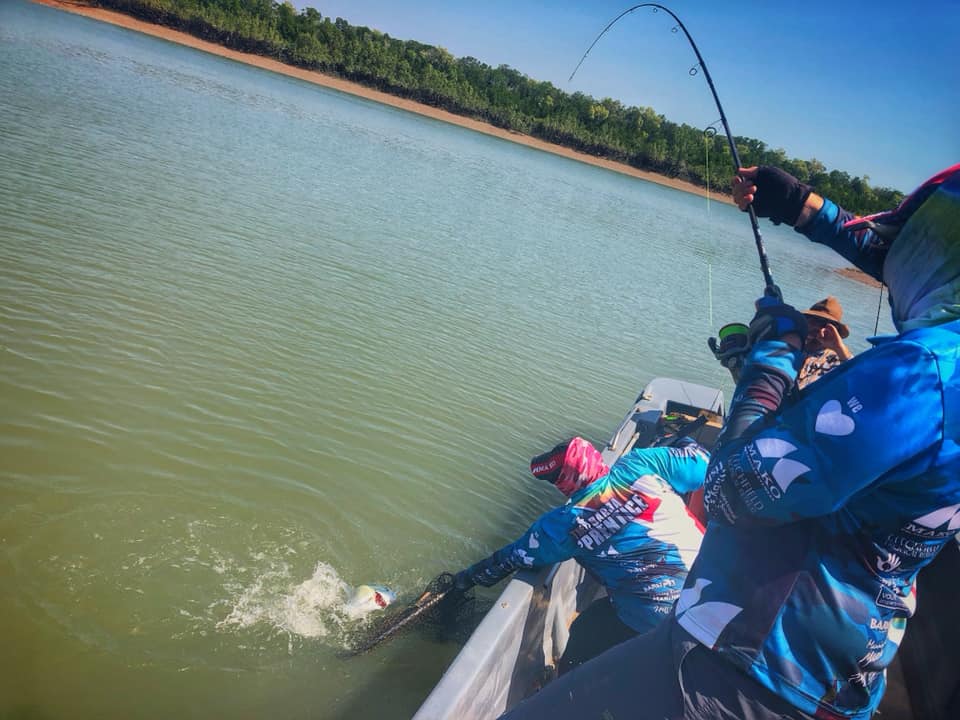 We started working hard bodies and weedless soft plastics in and around the mangroves, and it finally hit me: THIS is why I had so much casting training. THIS is why I've been working so hard to get it right. THIS is why I'm having a great time on the water and not getting frustrated that my abilities didn't match my passion!
There is no doubt in my mind that, prior to my Barra'Prentice journey, there is ABSOLUTELY NO WAY I could have cast my lure without hitting the many obstacles that I was surrounded by. Both of my mentors have helped me tremendously in this aspect, but I must give a special mention to Jo, because it was her hard work in customising a technique that worked for me that really made a big difference 😊
I'm always going to be learning though. No matter how many years fishing I have under my belt, I will be a willing and passionate student! Today was no different😉
Watty was so helpful and assisted with teaching me a special technique to work my hard body lures that is so effective! Also, he was always praising me when I cast into a perfect spot, or was making sure I retrieved the lure at the perfect speed so that I had the best chance of landing a fish today!
"BUT WHAT DID YOU CATCH?" I hear you ask…
Well nothing at first — It was hard fishing for me while my mentors were killing it in comparison 😂😂😂
Jo caught our first Barra of the trip, and not to be outdone, Georgina Saunders caught a gorgeous potato cod ☺️ We didn't take pics of either because we were so excited to keep fishing!
Then bang! Jo was on and got a catfish and I changed lure from a hard body to a Squidgies lure in the hope of changing it up!
Watty kept moving us around to make sure we had the best opportunity and was really wanting me to catch a fish — so I starting up having to make excuses (jokingly) as to why I wasn't catching anything 😂
Maybe I'm saving all my luck for the SWB Barra Challenge 😂😂😂
Maybe I'm going to be the last person to catch a fish ,but it's gonna be the biggest 🤣🤣🤣
At no time did I doubt myself nor whether I would be successful today, because I had faith in myself, my mentors who had my back, the absolute BEST gear for fishing the species and location thanks to another sponsor (Thank you again Manning River Marine!) and the best charter operator in the top end putting me on the fish!
Well my perseverance paid off in spades! After moving onto my new spin rod, and listening to Watty as to lure selection, I was rewarded with a gorgeous little queenfish! I was elated to finally be on the board!
I quickly put my lure back in the water… Then a big WHACK!!! I was on again !! And OMFG IT WAS A BARRA!!!!!!! I couldn't believe it!
This Barra'Prentice finally caught her first Barra of the trip!! (With hopefully more will come ☺️)
This Barra was also especially special because I made a promise to a good friend Mantis Toboggan, (who is going through an extremely tough time health wise), that the first Barra I caught would bear his name. So I present to you… My glorious Mitch-amundi!! ♥️♥️♥️
After a few pics, back in the water went my lure and ANOTHER HIT! This time it was a MANGROVE JACK… A fish I've always wanted to catch also !
What a fight all these fish gave and I was now officially on cloud 9!!
And it wasn't just me catching all the fish now — that wouldn't be fair now would it 😂
All up, Jo caught barra, queenfish, the most amazing mangrove jack and Catfish.
Georgi caught a beautiful fingermark/golden snapper, potato cod and GT also!!
What a day!
After calling it a day with the biggest smile on my face, we got off the water and headed back to our accommodation, where Watty organised a special dinner  — a feast of the Barra and golden snapper from our catch that day!!
And it was SPECTACULAR!!!! 😍🤤
I can't believe we are so lucky to be GOING OUT AGAIN TOMORROW with Watty and having the benefit of his knowledge!!! It's going to be epic 😃
Thank you all for taking this journey with me and for all your support and amazing comments and messages! I read them all and appreciate and love each and every one! ♥️
Nadz signing off …
Today was a milestone for this
The Barra'Prentice
as it marks halfway through my journey and graduation the Top End!
With only 3 sleeps until the SWB Barra Challenge, Jo, Georgina and I were really excited to go out again with our sponsor Watty from Barefoot Fishing Safaris and try our best to land something specialised … I wish someone had given the fish that memo today!! 🤣
The biggest lesson for me today is when the jelly prawns are out… the fish are virtually uncatchable, as they are feeding on the abundance of them!! It is very hard to "match the hatch", as it is known, and replicate the bait that the fish are eating in a lure sense… so today's fishing was extremely hard for everyone on the boat.
We tried all manner of soft plastics (some with different shapes and sizes of fish, prawns, hard bodied lures — shallow and deep divers such as squirrels, bombers, etc.), soft vibes… you name it…. we used it.
But some days, the fish don't want to come out to play, and it's a shame because we could see the fish surfacing to boof and attack those jelly prawns… and we would then cast like crazy in that spot — but they just were not interested!
Watty did warn us that it was supposed to be a tough days fishing today… and being the bloody good guide he is, he was spot on!
The fish were there — Watty totally put us at where they were each and every time. Every spot he took us to had activity — It's just one of those fishing days when you just shrug and wonder why they aren't on the bite and try again !
We did catch fish of course, and there were so many we didn't take pics of, but it wasn't the flurry of activity like yesterday, and what we did catch today was smaller than yesterday's haul.
One huge thing that happened was that I hooked onto a Barra… a much larger one than I caught yesterday! After I struck, the Barra leapt out of the water — a sight that literally made me gasp! But as it was jumping, I realised it was jumping towards me, whilst shaking its head violently — which is not a great thing when trying to make sure a hook is connected and that you have a tight line, keeping pressure on that fish at all times!
I wound as fast as I could to take up all that slack… but alas, that gorgeous barra won the fight and spat out my hook! Such a shame of course, but I always look at the positives and it is experiences like these that make you want to catch more fish, believe it or not! It's sometimes the one that got away that you remember the most!
Another thing I learnt on the boat today with Watty, was the crazy tidal movement they have here in the NT!!! From 7.5 meters at 8:30am to 0.85 meters at 2:48pm!!! This just blew my mind! What an unbelievable drop in such a short space of time!
All in all we had a bloody great time in the 2 days with Watty! By the second day, we were all comfortable to be joking with each other and having good laughs about everything, and Watty was even comfortable enough to give his trademark wave in the picture with the sounder 🤣🤣🤣 He had me in stitches!
I know whenever I come back to the Top End (with hubby next time), I'm going to be booking Watty in for a couple of days at least! I will also be purchasing a membership to the Barefoot Fishing Safari Club, where I can win a whole bunch of prizes (including monthly charter draws!)
Thank you so much for being the best and helping us out so much, Watty — we had a ball!
One thing I did get to do on the charter today was to really work my new gear so generously supplied by Manning River Marine.
I had to switch between using my spin gear to my baitcaster constantly during the day today and it was just wonderful to work on getting used to it all!
Usually, it's really hard to go from one to the other, but with such superb gear, I found it much easier to dial in my casting and really work on being more accurate than I ever had been!
Manning River Marine knew what I was fishing for, and what conditions I'd be facing and selected and personalised my outfit, so that it was a perfect match to my needs. I really could not have asked for a more personalised combo. It's absolutely spot on for what I need.
When you are casting constantly to make sure you have the best chance to catch a fish in any situation, Manning River Marine made a perfect selection so that my job of casting and catching fish is a sincere pleasure!
I am in awe of their expertise and am so thrilled to own the gear I do and really so thankful to have them as a sponsor! I may be a little in love with the gear they supplied, to be honest 😂😂😂
I do digress though… one thing did happen on the charter on our return back to the boat ramp that is certainly worth a mention!
We encountered a slight challenge by way of a sand bar blocking our passage back to that boat ramp, because the tide hadn't come in far enough yet and we had to wait a little while!
This small moment of time waiting was actually incredible as we were rewarded in seeing so much action on the water!
We saw blue swimmer crabs, eagle rays, jumping queenfish, a shark, a rock that I thought was another crab 🤣🤣🤣
Then finally we saw a croc!! A decent sized one too! It was the first croc I've seen since being up here and we saw it on the surface for a short time before it sunk off into the depths! Such impressive animals!
At the end of the day, and after many amazing Barefoot Fishing adventures, we farewelled and thanked Watty, and headed off to our new accommodation… and it's a little exciting as it's at the Corroboree Park Tavern… the compulsory home of all of the SWB Participants!!
We've checked in, had dinner, packed our room and it's been a huge day so we really need to get some shut eye.
Tomorrow's going to be an even bigger day, as we finally get to see Corroboree Billabong and hopefully have a pre-fish before the comp!
But for now, it's a well deserved rest ☺️
Nadz signing off ….
Each and every day I've been up here on this adventure, I've had so much fun, as well as learning so many new things. Today was no different, except for the fact it was more special because TODAY WE WERE ON CORROBOREE BILLABONG!!!

This waterway is absolutely special for many reasons. It is purely stunning, and has such an indescribable beauty. There were times on the boat today that I was just smiling and feeing a real connection to our country and being there in that moment.
This Billabong is a really untouched part of the world and has so much wildlife, it was hard keeping up with Jo and Georgina pointing it all out to me!
Both of them are very familiar with this Billabong (both fishing it and visiting this special part of the world) and I just was grateful for their knowledge!
But the reason Corroboree is so iconic for this trip is that it is where the SWB Barra Challenge is actually held!
All participants are required to stay at the nearby Corrroboree Tavern, and we even bumped into a few other teams there! Some already knew who I was, because they follow the Barra'Prentice journey! It was really so nice to meet some other women who also love to fish!
The Tavern also has some cool things to see — like buffalo (including an albino buffalo!), as well as an impressive sized croc named Brutus!! He did move position when we arrived at his enclosure, watching us the entire time! You just felt eyes on you even with your back turned and you can see why these creatures are such impressively evolved apex predators.
But back to Corroboree… before we even got into the billabong, I had to back the boat into the waterway, and of course this is the first time I'd ever seen this boat ramp! I'm proud to say that I didn't sweat it and made sure I followed all the instructions to a tee and remembered my training ☺️
Our main goal today was to lay a few tracks down Corroboree and to get familiar with an ever changing waterway during our pre-fish. Of course, we could wet a few lines while we were out, but it wasn't our priority. We would prefer to catch the fish at comp time and scope out possible places where they may be hiding so we had an idea of where to fish.
I've learnt so much about structure and how fish 😊, but to actually see pandanus roots and lily pads in front of you, and finally being able to put all that theory into use, really made a difference! Thanks to our MAKO Eyewear, we are able to see all that structure and fish under the water too!! The fact that they look so very cool as as well as protect our eyes is an absolute treat!
As you can see, I put a lily pad on my head and was surprised how cool it is under one!! It provided the much needed shade, but also the literal temp dropped massively once I put it on my head (at Georgi and Jo's suggestion)! Of course I looked like a bit of a dill wearing a crazy looking bucket hat 🤣🤣🤣, but I was as cool as a cucumber and loving it on a very hot day in the NT!
Speaking of hot, more thanks to my mentors pointing out particular sections of the 'bong that looked "hot", I could start to see potential hotspots myself and it was really fantastic to be working as a team and trying to find those fish.
The word around is that the barra have been quite elusive on Corroboree, and the comp would be won on saratoga (the only 2 species of fish that score points). We are hoping that the spots we scoped out today will prove fruitful for either of those species!!
Another item on our agenda was to work on our boat as a team again, as we haven't done that since my second training weekend, when Jo and I went up to Georgi's local waterway and had a ball.
Today was brilliant and I love how both Jo and Georgi immediately (and assertively) let me know if there is something I should be doing on a boat (or not supposed to be doing 🤣)
Every little bit of info helps, and I can't imagine how difficult it must be to have someone who is a passionate novice and try and build them up to be a proficient and confident angler.
I now know that I need to work on any slack line when I'm casting when fishing a soft plastic after dropping it off a lily pad. I now know that I have to work on my boat presence and spacial awareness (especially when it's a high stress moment and a fish is on), and I also need to forget some previous bad habits when they do sneak back unexpectedly and remember all I've been taught when it matters.
That latter point was so important today when I got onto a Saratoga! I knew when I cast my lure that it was a nice cast in a good spot. What I didn't expect was a big boof and a potential point scorer (come comp time) at the end of my line! I was connected to the fish for a moment, but I lost it due to a small error that I thought I had beat.
A lesson now in the pre-fish is so much better than an error made during the SWB. Today made me aware of that error and I will not become complacent and WILL iron out this kink. I WILL beat this old habit of mine, and I will continue to overcome it and ensure that I won't be making the small errors that can be a huge difference when the SWB is on!
Georgi and Jo still said I should be very proud that I got a 'toga to show itself as I must of worked my lure properly etc, and this made me even more determined to make them even prouder when I pull one up on the boat.
Soon after that excitement… I heard Georgi cry "NET!!" I looked over and saw a bend in her rod!!! It looked to be a decent bend too!! Omg what fish was Georgi onto???
A HUUUUUUUGE Catfish!!!
Now, I know everyone up here is really dismissive of this fish — but I've never seen one so large, and Jo said they even get larger!! They also have a poisonous spine you have to be super careful of, hence why it was handled the way it was in this pic.
Catfish also make this hilarious sound like "oakh oakh" on repeat 🤣🤣🤣 they reminded me of the aliens from Mars Attacks with their "Ack Ack Acks" 😂😂😂. They do smell a bit pongy though, so we released it ASAP!
I even learned parts of the art of trolling today! No, we don't sit under a bridge with crazy hair — nor are we spreading negativity on social media. Trolling a lure is a technique where the boat is moving at a certain speed and lures in the water moving behind at a certain speed which imparts action on the lure.
It isn't our preferred method of fishing by any means, but my mentors' jobs are to teach me all they can, and this is yet another technique they have introduced me to.
There were plenty of crocs about too!! One particular croc was an especially impressive specimen, but by the time I got my camera he disappeared to the depths — tomorrow I'll be more prepared.
All in all, my mentors and I made plans for tomorrow's pre-fish  and called it a day. I really cannot wait until tomorrow as it will be the last day to see what we can do before the actual comp!! ITS ALL FINALLY HAPPENING !!!!!
Of course, I retrieved the boat from the ramp and we headed back to the Tavern for much needed refreshments and dinner ☺️
Tomorrow is going to be a HUGE day and I absolutely cannot wait to see how it all turns out!!!
Time to get some shut eye !
Nadz signing off…
I have to warn you all that todays diary entry may not be as long as the previous ones BECAUSE TOMORROW IS THE DAY OF THE SWB Barra Challenge!!!! 
Firstly, I want to say that there is no way we would be here without all the support of our sponsors, like Hell yeah chatterbaits. They have all gone out of their way to make sure this team is here and fishing at their best! A huge Thank you to all them all ☺️
Secondly… today was a momentous day for so many reasons. I'm going to point form them, so I mention them all without going into to much detail, as we need our sleep for an early rise tomorrow!
1. we are working so well as a team and and I fished much better after taking all of those suggestions by my 2 awesome mentors ( Jo Starling and Georgina Saunders)
2. We had to troubleshoot and fix a problem on the boat today when Jo noticed boat kept stalling and thought it might be a lack of fuel. She pumped the fuel bulb and it was soft (indicating no fuel) and it was then she noticed that fuel was coming out of a hole in the side of a fuel hose. Thanks to Jo's and georgi's problem solving and my trusty lionsteel blade and being on croc watch — Team Barra'Prentice got it sorted!
3. Crocs are SO HUGE ON THIS BILLABONG, I CANT EVEN BELIEVE IT!! We got close to so many crocs today and I'm in absolute awe of them! There were moments we were playing a game called… is it a croc, rock or a fallen log? The way that they move so quickly also in the water and strike!! It absolutely and still blows my mind!! We saw one that was around 5 1/2 meters long and was the definition of menacing!
4. We had a more successful day on the water — Georgi caught a beautiful Saratoga and I CAUGHT MY FIRST EVER SARATOGA!!!!!! At 52 cm, this fish would he scoring fish at the comp, but catching it was the culmination of everything I've been taught and I was really overcome with emotion after it was safely on board and given both my mentors the biggest bear hug ever, holding back the tears. The fish was completely stuck in lily pads and I really listened to both of my mentors and their advice and I was (and still) so rapt to now say I've caught this amazing fish.
5. We had our sign up / muster / welcome to the comp dinner tonight and met some amazingly awesome teams!! We sat next to Team Silver Caviar and it was so good to meet a bunch of cool chicks who have the same passions as I do ! There were other people in teams I met who were also just so wonderfully supportive (and some who were following this 'Prentice's journey ☺️)
6. After prepping our bags, rods, tackle, etc . It's time for me to go to bed.
Thank you all for your messages of support! Wish us luck tomorrow !!
Nadz signing off …
So, today was the day we've been waiting for… the first day of the SWB Barra Challenge and we couldn't be more excited !!!
We were up bright and early today and as we headed down to Corroboree Billabong, my head was filled with so much excitement, wonder and determination.
All these months of training and all the effort that my mentors and the Barra'Prentice program have so generously given me, has all culminated in participation in this comp as a graduation of sorts.
Of course, the purpose isn't to win (even though we want to do our absolute best, and wouldn't say no to a win). The whole purpose of this was for my passion for fishing to match my skill set and for me to be a proficient and whole fisher.
A secondary purpose or this program is to hopefully inspire the journey of many through my story of growth and development. I really am honoured to be 'Prentice this year, and I hope I've inspired many of you to pick up that rod and go fishing!
I couldn't have done this without one sponsor in particular, who I would like to thank from the bottom of my heart: Starlo's Fishotopia. Fishotopia.com is the web-based fishing community that is the official home of the Barra'Prentice, but it is also a place where any person can enjoy and learn more about fishing! There is amazing free content daily, but also there is the member's Inner Circle, which I cannot recommend highly enough!!
Like Fishotopia inspires me to fish, I really want to encourage other women to fish. Where I'm from, women fishing is an anomaly and fishing is considered a boys thing. I want more women out on the water enjoying nature, learning how to be self-sufficient and to feel how thrilling it is to catch a beautiful fish and be proud.
When I tell the girls up here in the comp (who are from the NT) about the fact that not a lot of women fish where I'm from, they are totally surprised! It's a way of life up here for them and I really do hope that everyone (not just the boys) can go out and have a fish and feel the pure exhilaration that comes with it!
And a message to all the boys out there who fish — if you don't already, take your Mrs, your partner, your daughter, your niece, your Mum … whatever female that you love and is around you, and give her the opportunity to learn these skills! Don't keep all the fun for yourself 🤣 that way you will have more rods and tackle as a result and you will have someone else who loves tackle shopping as much as you do ☺️
I digress once again… It's so empowering to now have all these skills, and today I truly felt ready.
Once we got the boat in, I was amazed to see Corroboree Billabong in such a different light (darkness)!! The fog was heavy and it was so difficult to navigate! We had to use a spotlight and a torch to light up the banks and travel slowly, so that we could get to our fave spot to hopefully snag a competition scorer!
Another thing I now know is that crocodiles eyes glow this piercing red/ orange colour when a spotlight is pointing at them and the billabong is full of them! Being dark and misty meant it was kind of eerily beautiful, and those red glows reminded you to keep all hands inside the boat at all times!
Sunrise was magnificent! I can't explain how awesome they are here. Each day is seemingly better than the next… but today, fishing the SWB Barra Challenge with Team Barra'Prentice — the sun rising is a special moment that will live with me forever!
There will be more time for me to go into specifics of what we exactly did at the comp, but some stories have to be left untold till the tournament is over. After all, it is a competition and we can't give away any secrets.
Let's just say I CAUGHT THE FIRST SCORING FISH ON OUR BOAT!!!! You saw right — this 'Prentice scored at SWB (my first comp ever) and got the ball rolling for her team!
It wasn't a giant by any means at 48 cms, but a scoring fish is a scoring fish!
Also Jo Starling caught 2 amazing Saratoga at 60 and 61 cms respectively… HOW GOOD IS THAT?!
Georgina Saunders was so unlucky in that her 'toga was literally 1cm too small.
The waterway we are fishing is particularly hard at the moment, so many teams registered zero catches for their boat.
At this evenings dinner / festivities, they read out the top 10… AND TEAM BARRA'PRENTICE WAS RUNNING 8TH!!
Not only that, because Jo caught her picture perfect pair of 'togas, she was running 8TH OUT OF ALL ANGLERS PRESENT !!!
All in all, I was pretty chuffed for this result and I was on cloud 9.
Then it was time for some lucky angler prizes… would you believe it MY NAME GOT CALLED!!
Anyways, I'm about to go to sleep for another early start for an epic day 2 of the comp tomorrow! It is also the day I technically graduate as 'Prentice so it's going to be a big one!! Wish us luck ☺️
 I know you all are waiting for a full report of today's amazing activities, but this Barra 'Prentice desperately needs some sleep !
So I will say a couple of things, and continue Day 10's epic entry in the morning !
Firstly OMFG OUR TEAM CAME 4TH IN THE COMP!!!!
FOURTH !!!!!!!!!! Can you believe it !!?!?
Not only that, I came 24th out of a total 140 anglers!!!! FOR MY FIRST COMP EVER !!!
Also … Jo came 3rd!!!! Wow wow wow !!!
I'm legitimately in shock, but absolutely delighted and filled with happiness and pride.
I know it's the end of being a 'Prentice, as I graduated today… but it's the start of an ongoing journey that I'll be continuing with this same enthusiasm!
Anyways… for now
Nadz signing off… with a full update tomorrow
Ps… I know you love your pics, so here is one to sate you until tomorrow ! Here is a croc we picked up on the sounder after it disappeared from the surface!! so very cool 😍😍😍
What an experience I've had with SWB Barra Challenge!
It's extremely hard to describe everything that's happened on the water since my last diary entry, but I'm going to try my best…
I also will be putting a little more info about Day 1 of the comp in here because: a) it was a short diary entry, and b) we aren't in comp mode anymore, so I can go into more details about what techniques worked for us 😉
Fishing was expected to be hard on the 'bong, and we thought that description was extremely apt at the end of Day 1! Very few barra were caught on the first day (low single digits) and this competition being won on saratoga seemed a very BIG possibility.
We were planning on targeting saratoga to give ourselves the best chance possible (even though they were worth half the points of a barra).
Both days, I was casting weighted or unweighted soft plastics over and across lily pads and letting them drop in between the gaps. This technique (of course introduced to me by Jo ), was my weapon of choice for the comp, and doing this all day in the NT sun really is challenging, but so much fun for me and so thrilling at the same time!
I haven't done this type of fishing before and I can wholeheartedly say that it was one of the most exhilarating and interactive styles of fishing that I've ever encountered. Casting out my weedless rigged plastic, letting it land and then flicking my rod tip ever so slightly so that it would jump over lily pads and into my desired spot, then letting it sink to whatever depth I chose… I was seriously having the time of my life each and every cast!
It's no secret that I'm a huge soft plastics fan, and while we did use hard bodies over the trip (and also in the comp) it was the soft plastics that got me the most success.
A special moment happened on day 1 of the comp where I started trying a few different techniques with my soft plastics doing what I explained earlier, but then decided that on that drop between the lily pads I'd make my rod tip jiggle a little when my lure hit the bottom. Then pause… and BANG! I'd be on a fish!!
The jiggling action was an action similar to the one I've used with a Cranka Crab (thanks to a Starlo's Fishotopia video for that one) and I thought I would apply it to soft plastics for something different.
Saratoga are notoriously (and genuinely ) hard to catch. They fight dirty and because they love hanging out under the lilies, they use that to their advantage and bust you off easily.
So, while I was getting lots of action, I wasn't able to convert them into actual fish on the boat!
Jo noticed I was getting plenty of attention from the fish and was watching what was going on (as she always does). She then asked me to explain my technique and used it herself (modifying it ever so slightly).
She said that when the lure was worked that way it imitated a fish trying to feed and the 'toga were obviously responding.
Georgina Saunders came up with the idea of calling the action Shake Your Nadz 🤣🤣🤣 it was hilarious !!
After Jo had a few casts with the Shake Your Nadz technique, SHE GOT A STRIKE !! 2 seconds in 😉 AND A POINTS SCORING FISH WAS ON THE BOAT !!!
She tried again and FISH ON!!
She really gave me so much kudos for thinking outside the box, and I was (and still am ) so chuffed to receive such praise!
One thing that was a secret weapon on the boat too was Georgi's statement that she could smell fish in a spot — we got lucky! It's like she had spidey senses, but more like fishy senses!
Jo and Georgi made a great team deciding on where to stop and cast and Corroboree is quite a large Billabong, with many little paths one can go to. Hearing them talk about structure, edges, water quality, water temperatures, bird activity, depth of water, etc. was really a lesson in itself!!
The results of the first day put us in 8th position and I was stoked! I couldn't believe that we were in the top 10! Its was this Sydney City girl 'Prentice's first comp, and a lot of these girls were Territorians who can fish and do fish this waterway frequently!
Anyhow, enough of day 1 — let's go to Day 2 !!
We had a plan. We wanted to start where we had great success the previous day, and it's far away from the boat ramp, so we we woke up at 3.30am and were ready to put in the boat at around 4.20am so we could put lines in at 6am!
We had a routine at this stage and we were in the final stages, when it was discovered that our sounder was completely dead.
Georgi is an absolute gun when it comes to boat electrics and she completely tried every single trick in the book to make it work.
Both Georgi and Jo looked like they would give MacGyver a run for his money working on the sounder and the boat the way they did, but ala , the sounder just decided to cark it that day of all days 🤦🏻‍♀️
Instead of giving up, or letting that defeat us, we decided against heading up the croc filled 'bong in the dark in heavy fog with no precious tracks, navigating the way merely relying on spot lights. Instead, we decided to just fish near the boat ramp until first light and we could then move to any spot we wished.
Just as the sun was rising, we heard a barra boof something on the surface behind us! Georgi actually saw it happen and told Jo and myself to cast in at a particular spot. Jo got there first and what do you know, WE HAD A BARRA ON THE LINE!! Talk about team work ☺️
Georgie spotted it,
Jo reeled it in,
I netted it.
It was a dream come true!! AND GAINED A BIG HIT OF POINTS ON OUR SCORECARD!
If our sounder had worked, we wouldn't have caught that barra because we would have gone to our pre-determined spot! It goes to show that you that sometimes you just need to roll with the punches and see how it all turns out!
There was massive heartbreak on the water today though as Georgi had a 'toga on the line that was a bit of a monster. She fought that beast for a while only to lose it right at the boat. Jo estimated him to be an easy 70+ cm for sure, and if we did get that fish on board Georgi would have for a trophy for Biggest Saratoga caught at SWB!
Lesser anglers would have for upset and lost their minds, given up etc… but not Georgi! Yes, she was disappointed, but sometimes that's fishing and there is nothing you can do about it! It is what it is, and the best thing to do is to put your line out again and see what you end up with. What a mentor and what a legend!
I had no action all day, hardly any bites and Jo and Georgi explained that the second day of fishing is always harder, because the fish have gone off the bite after being caught, hooked or spooked.
Then, in the afternoon, I caught a small Saratoga!! THEN ANOTHER ONE WHICH BEAT MY PB!! I love these fish!!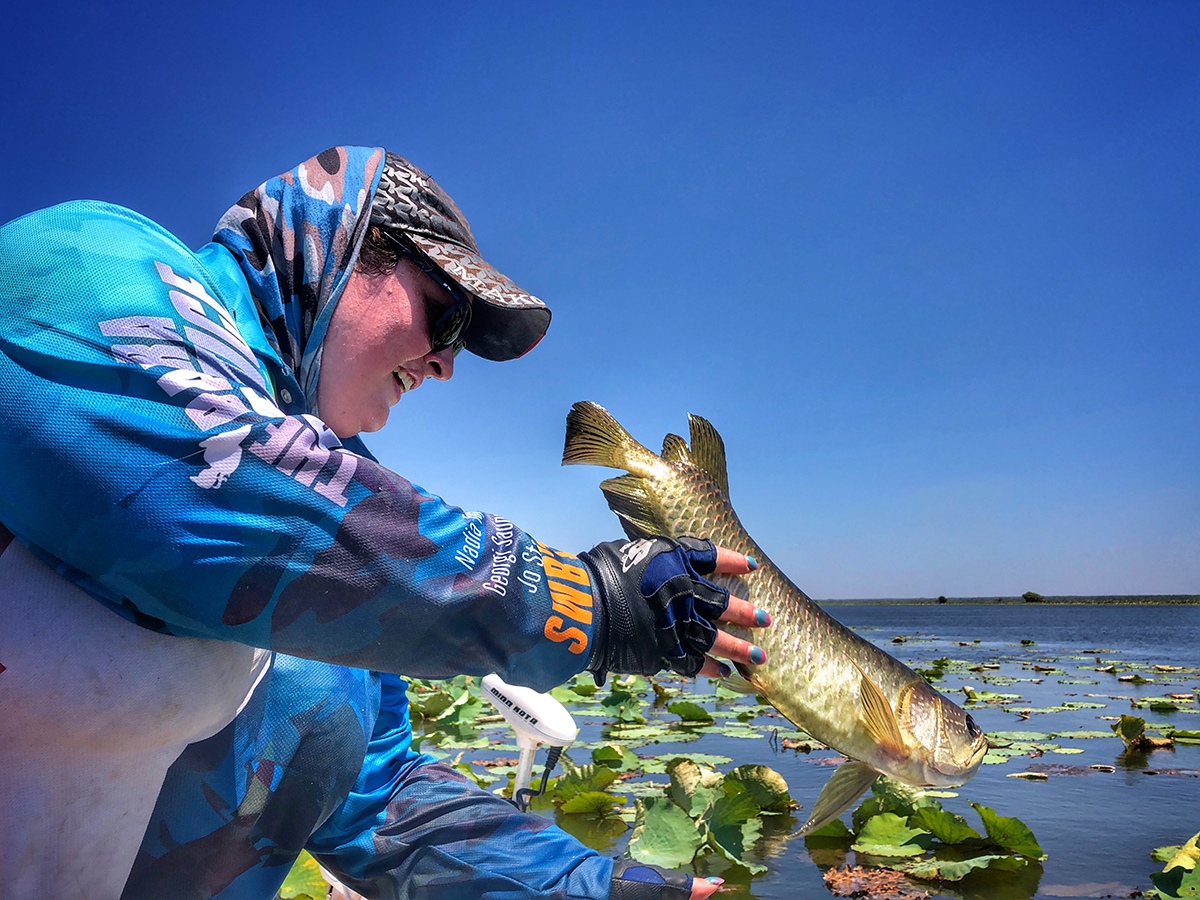 I don't think I would have been able to angle these very long fish in the net so wonderfully without the help of Vicki Winter-Lear who really helped me work on steering a fish into the net as well as netting other people's fish. She is a mentor of The Barra'Prentice program and her business Vault Property Management proudly sponsors our team each and every year. Even when she couldn't come north this year, she insisted I come stay with her any her awesome hubby and have a fish.
Back to day 2! Jo was on fire today and she managed to bring in a couple of Saratoga herself also! woohoooo!!!
Time was counting down to the end of the comp and we were casting like mad hoping to score just one more more fish… but at 4pm lines are out and we were DONE.
We were all hurting, tired and sun affected, but Team Barra'Prentice had achieved a great day out on the water and we had an even better day the second day of fishing a comp, which is amazing in itself as it doesn't usually go that way!!
I was wondering how we would end up on the points tally. I thought if I was in the top 50 individual anglers for my first comp I'd be so happy. Especially seeing most of these women were on their home turf!
As a team, we were 8th at the end of Day 1 (which I was so so so so pleased with ) and I was just hoping we would stay in the top 10!
When I saw our results for the first time — I couldn't believe it!!! My team mates got the hugest hug and I was holding back the tears of joy!!
We completed the SWB in difficult conditions with multiple adversities… and we came 4th!!! We overcame each and every challenge that was presented to us, worked as a team and had a great result!!
And out of 140 anglers… I CAME 24th!!!!! It's been longer than a day since I found out, and I'm still on cloud 9 !! My dimples have been hurting for smiling so much 🤣🤣🤣
Jo came 3rd too which is a MASSIVE AND MONUMENTAL achievement! Jo works so hard and has a pure and inspirational love of fishing that I just adore. She is truly someone that inspires so many people to get out there (including a few girls at SWB in other teams) and believe in their abilities.
I sincerely owe so much to this program and to everyone involved with it. It's changed my life in so many ways and given me the opportunity to fulfil my wish to be a self-sufficient and confident angler.
I remember what it was like to be passionate with no skill. That version of me is no more and I'm truly the happiest and will be forever grateful for this opportunity.
Nadz signing off…
Well this is it!! Today's entry is my last as The Barra'Prentice because I HAVE OFFICIALLY GRADUATED and now joined the alumni in this amazing program that has truly changed my life.
I've got quite a bit to catch you all up on, and a lot of people to thank so I'll get right on it !!!
After SWB Barra Challenge celebrations were completed, we had a lot of things to do before we could come back home. Packing (with many more goodies than I came with 🤣) cleaning and returning the boat and car, etc. all had to be done before we headed back to Darwin.
We had a dinner planned which was really lovely. All of our Darwin-based sponsors and some friends and family were invited and it was just great to discuss all the things we have been up to, as well as thank them in person for the support they have shown.
One sponsor in particular, Curby's NT, actually invited us to their shopt he next day,  to see the process of how the cool-as shirts we wore every day were made!
It was a really great end to an epic trip and I thank everyone for being there!
The next morning, after a hearty breakfast, we were super excited to go to Curby's NT… and what a surprise it was!!
I enjoyed every minute of learning about the whole process, seeing the press, the colour palates, knowing all these shirts are made in Australia, using Australian products and materials. It's great knowing that your sponsor is super-passionate about their final product and seeing the care they put into each and every shirt and item they customise!
One thing I also found out is that they have a minimum order of 1!!! So If anyone wants to customise a shirt just for themselves, or for a pressie for someone, Curby's NT are happy to oblige!
These shirts are the real deal! I know, because I've had to wear them each and every day in the heat and they are an absolute top quality product! I had long sleeve shirts for sun protection on the boat and a short sleeve for the evening festivities. They are super breathable and the team at Curby's are passionate about making their customers happy.
I've actually used other brands of fishing/outdoor shirts and can confirm that Curby's NT's fabric, colour, finish and durability are far superior to anything else I've used in the past. As a result, I've actually put in an order for more shirts to be printed as a paying customer, because I'm that impressed!
They also personalise a whole lot of other things that you may be interested in, so do yourself a favour and have a look at their website and contact them and tell them Nadz sent you! They will appreciate it and totally deserve the support!
After the cool tour, we had to bid farewell to Darwin and I knew this adventure was officially over, but a new chapter was beginning also.
My time as 'Prentice has come to an end, but has now begun to morph into another journey of self-fulfilment and fishing competency and satisfaction.
I have a new list of plans and aspirations that wouldn't have been possible without The Barra'Prentice Program:
– I will be getting a a boat license
– I will share my love of fishing with all my god children and nephews as well as anyone who will listen 😂
– I will try to get more women out fishing with me
– I will go fishing more often and use all this knowledge I have gained and have more fun as a result
– I will make sure I never lose contact (and make sure I go out fishing) with the new fishing friends I have made for life
– I will do more comps in the future
– I will stay positive and never question my ability
– I will NEVER forget this experience and those who made it possible
I expected this program would improve my fishing, but I never expected how much it would genuinely change my life and outlook. I will be eternally grateful for this opportunity of a lifetime and for the gifts it has bestowed on me.
I wish to thank a few people now… I know that I have thanked them before, I can never thank them enough… so here I go.
I'd like to thank Jo Starling for being the fantastic teacher that she is, and also an absolute inspiration to me, and many other people out there. I feel so honoured to have such a talented mentor who is so generous with her time and knowledge. Jo believed in me from the very start, and saw my true potential, even when I didn't. If it wasn't for her belief in me, I doubt I'd be the person I am today and I will always hold those memories and her friendship close to my heart with thanks always. Her dedication to this cause is astounding and truly so life changing. Jo also tirelessly touched up all the pics taken of the trip, so they looked as good as they did! You absolutely rock, Jo! ♥️
I'd also like to thank my equally amazing mentor Georgina Saunders, who just blew me away with her undying support, expertise and genuine care for me during this journey. From the first time we met on a training weekend, I knew that Georgi was an absolute gem and her knowledge really was amazing! If I asked a question, even if it was a basic one, Georgi would always explain it so well and I loved learning so much from her! She could always tell when I was having difficulty and show me a way to overcome it. Her generosity was just astounding and for her to give up so much of her time to be a brilliant mentor is something I will always treasure and never forget. You are a true and beautiful human and friend, Georgi ♥️
I also want to thank Vicki Winter-Lear, who even though couldn't be a mentor this year, INSISTED she take me out fishing and taught me so many things along the way. There is no doubt that if I didn't have that extra training with her, I wouldn't have been as confident in this comp. Not only this, but she followed the journey as it was happening… supporting us all, and thanking Georgi for being there as a mentor when she couldn't make it. Vicki just wanted this 'Prentice (and all others past and present) to succeed and achieve all they can and I will forever be grateful. I am so chuffed I got to meet such a wonderful and warm person, who I'm now lucky to call friend.
I also want to thank all of the husbands that have both supported my journey and their awesome wives and have completely sacrificed having their spouses home because they know how important The Barra'Prentice program really is… Steve Starling, Mick Saunders and Scotty Lear, you will always have my respect and gratitude for all of what you have done for me.
Thank you also to my own husband, Glenn, who had to hold the fort while battling illness and a myriad of other issues… and dealing with it without worrying me, as he didn't want to affect my trip. Your support and messages meant the world to me and I'm grateful to have a husband who backs me the way you do, in any avenue I wish to go down.
Thank you to my mother, Helen Nahas for being my biggest and most crazy passionate supporter!! Your constant encouragement and love could be felt all the way to the NT.
This diary blog really started as a way for me to remember down the track what we did each day, but ended up getting a life of its own, and so many people felt as though they were here too. It was an amazing feeling having you all along for the ride, and I know I've made new friends and become closer to old friends because of it.
Finally and probably the biggest thanks go to my sponsors. I CANNOT STRESS TO YOU ALL HOW AMAZING THESE SPONSORS ARE !! They provided me with all the tools to succeed and they deserve every bit of good karmic reward because of it!
I know I'll be using their services in the future as a way of saying thanks , but I ask you all to please keep them in your minds if you are ever in the need of their services. They have been generous and supportive of me, changing my life for the better, so please support them in kind and make their businesses thrive!
Starlo's Fishotopia
Professional Plant Solutions
Vault Property Management
MAKO Eyewear
Manning River Marine
Litchfield Tropical Retreat
Barefoot Fishing Safaris
Curby's NT
Hell yeah chatterbaits
Ok , I leave you now with these last pictures of the best most life changing experience that I'll never forget, and once again… Thankyou all ♥️ hope to see you all around the water soon ☺️ and GOOD LUCK TO THE 2020 'PRENTICE!! It is going to change your life for the better in ways you will never expect
Nadz signing off for the final time …